tonight i got drunk.
i never get drunk. i was all alone, you know, and you know how this goes: i just kind of started hating everyone and everything and i've quit smoking you see, and cutting is sooooo emo these days and everyone in the house had LEFT the house to go drinking margaritas and i thought,
i never drink. all my ex-boyfriends now drink. what's wrong with me?
i have no idea what's wrong with me. i should add that all my ex-boyfriends, with the notable exception of ian (who is an exception in all categories my other exes fit nicely into), did NOT drink while we were dating. in fact, they all said that they would NOT drink even if we were NOT dating. and now all of them drink. so i think there must be something wrong with me.
and the apartment didn't work out. the one for summer. i was excited about that apartment, you know... to live with this beautiful girl and the place was RIGHT next to the nation office.
and grant was stressed out, you know, although i shouldn't say he was stressed out because i never know what i'm supposed to write about him.
actually,
everyone
is stressed out. and i am not. i am not at all. i didn't think i was. i wrote a paper that was 40 pages long. that felt very long to me. i was very proud of the paper when it was finished. granted, it did have pictures. i like to write papers. not because i'm masochistic, either: but because i like to write papers.
i am very torn about this whole "blog" thing. the other day i was sitting around, checking livejournal and this guy named kyle came up, and kyle sits down and his face goes all pale.
"what? why do you look shocked?"
"oh. no. nothing. you know. nothing. i'm just... i'm just putting pieces together." said kyle.
"what are you putting together?" said i.
"oh. you know."
"no."
"oh."
there was a pause.
"what, kyle?"
kyle was looking uncomfortable.
"oh, you know. you just... you have all those scars on your arms and you have a livejournal. and i always used to say that people who have livejournals are emo assholes who cut themselves. but you're really nice and everything. i don't know. you know."
"no, you're right. privileged kids who think other kids could possibly care about their lives when no one actually does."
"yeah. okay, well i have to go." and kyle left.
now, listen. i have not cut myself in over nine months. this is a big thing. it sounds so stupid. cutting yourself is so stupid. i mean, yes, i feel pain, of course i feel pain, and everyone feels pain, but do i have to draw attention to it like that? can't i just get over it?
i even got a tattoo over my scars. of a bird, as if to say: "i am free of this bad habit. it's over." see?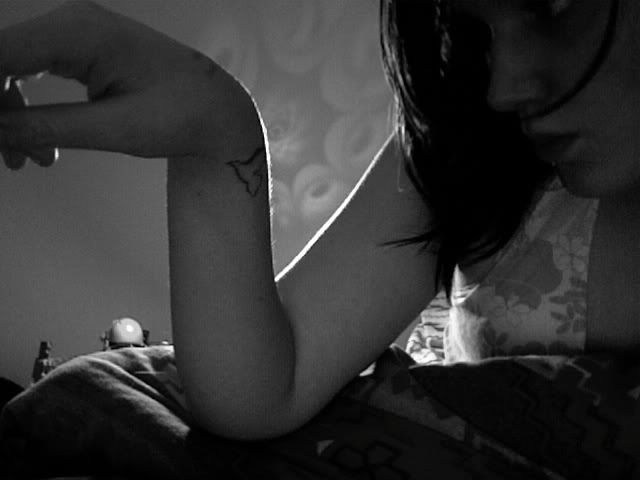 but here i am updating my livejournal on the day that i got drunk because everything just got too heavy again (how cliche is that?) and i let it break me down.
and i hate being drunk. usually, when i am drunk, i am a lot of fun. i think everything is hilarious and funny. but today i was just screaming and crying and alone and it was pathetic. i guess we middle class white kids get bored easily.
there were a lot of things i wanted to do, people i wanted to call, but of course i didn't do any of that.
ben doesn't update his livejournal anymore. none of my friends from high school, really.
i love making mix cds and i love my vinyl collection. last night i went bowling with this kid named andrew. he looks like this: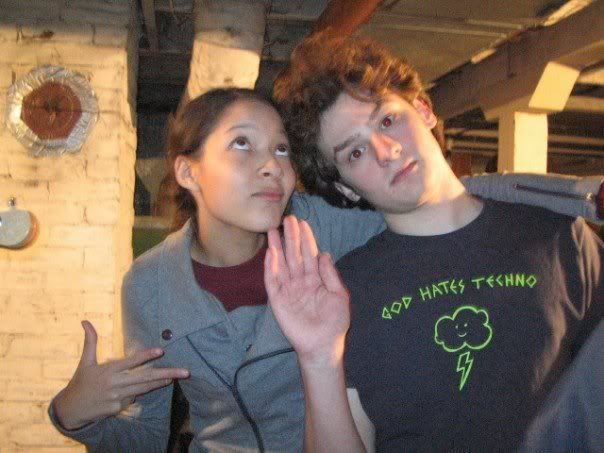 and he's just as funny as he looks -- everything that comes out of his mouth is a one-liner. for example, he says things like:
"i have a friend who lives in canada. the other night he went driving and got pulled over because a cop thought he was on weed. turns out he had just been watching too much mr. roger's neighborhood."
or, if you say something like,
"hey alex, i like your hat."
andrew will say:
"i have a tea cozy i wear for a hat. it didn't function as a tea cozy. but it's a lovely hat."
i think you'd really have to be there. i mean, the guy bowls by lying down on the ground and pushing the ball forward. it's really hysterical. he's a really funny person. but you know, you get this sense that he does it because he HAS to -- because he's SUPPOSED to; because someone told him at some point in his life that that was what he had to be: one-liner guy. and so he's nothing else. after that he's just a shell.
but you know, of course he's not. he's got all this shit going on inside him. it's heavily guarded. i wonder what made him decide to be on lock-down.
i've taken a cue from katie presley, and i'm re-reading all my francesca lia block books and my babysitter's club books, too. and i feel so guilty when i'm caught reading. someone will come in and i'll be under the covers in 90-degree weather reading with a flashlight. and they'll say, "hey, what are you reading?" and i'll say, "nothing. porn."
but it's not porn. it's babysitter's club.
here's the reality: i am
terrified
to go to new york. that's kind of what hit me today. you know, the apartment fell through (and i really, really hate when my plans fall through, which is my major fault in life -- i am ill-equipped for curve-balls) and i just thought to myself, "i do NOT want to go to new york. i do NOT want to work at the nation!"
i mean, i do. it is obviously my dream job. obviously. but it's so unsafe and big and scary and unlike anything i've ever done before. it's like, i'm going out into the world and saying, "i want to be a progressive journalist. what up?" but what if i actually want to be a lifeguard? or a dolphin trainer? or a baker of pastry puffs?
then i was struck with this very awful realization:
i am turning twenty-one in two days.
for the first time in my life i am dreading my birthday! which means that for every year after this, i will dread my birthday. i'm already starting to feel so old. i'm not, of course -- this is the young time; the time when i'm beautiful and leggy and i can still dye my hair dramatic colors and my parents are still alive to take care of me.
but how did this happen so FAST? i was not paying attention. i want to jump in a ball pit. i want to go to chuck e. cheese. and not ironically.
i know what you're thinking, but i LIKE chuck e. cheese. i think their pizza is good and i like skee-ball.
but these days it's gotten so high-tech there, you know? have you been recently? the mole-hitting game has been replaced in favor of, like, digital cactus blasting or some such shit.
actually, digital cactus blasting sounds like fun.
responsibility is terrifying. most of my friends have already figured this out. i don't know why it took me so long. laura figured it out. ben figured it out. katie figured it out. i was living in this stupid, naive world that still revolved around me, as it always will.
that was a convoluted paragraph.
you see, i've quit smoking for two weeks now. i have a great deal of pent-up aggression because of it.
i walked around campus without my glasses on. the frisbee players looked like ballet dancers and a rolled up sock in the field looked like a dead squirrel. i thought i duckling in the pond was only a fallen leaf. that's a metaphor for something, i'm just sure of it.
grant took very good care of me while i was drunk. i'm not familiar with the etiquette in these kinds of situations. are you supposed to buy your care-taker flowers? lunch? dinner? my eyes are burning. i watched "saved!" on dvd, which i used to do every night before i fell asleep freshman year. i used to masturbate slowly late at night, too, hoping danielle couldn't tell. but i think she probably could.
i'm leaving this beautiful little house.
i'm coming back. my hair will be longer. i'm growing out my hair. this is difficult for me. i have these urges to chop it all off in one fell swoop and dye it blonde. but i think i'd have to lose a lot of weight to pull it off.
i had a dream today where last year ian pilgrim and i had sex and i had a baby, but i recycled it. and i didn't tell ian about that for some reason and i wondered why things had been awkward between us this year. but then i suddenly remembered at a menomena concert, which was being held in the avalon in portland; except that the avalon was a huge circa-1923 (post-"waste land" pre-depression) night club with dancing girls and big curtains. it was summer and i didn't have shoes and ian was made out of jelly and i didn't know how to fix it.
there was another dream where mac called and he was on ecstasy. and when i woke up i had to decide whether i was happy or sad it had only been a dream, because on the one hand it was nice that he called, but on the other it was awkward to talk to him while he was on ecstasy.
so basically that's it. i haven't really said anything at all. i'm a verbose, conceited, egocentric college kid.
you'd think i'd have grown out of all that by now. but alas.