all i've been craving for days and days on end is a twix bar. grant says he thinks we could make a vegan one. but i hold that that would take a great deal of work that i'm not willing to put into something that non-vegans can have just by going to the corner-store and shelling out 80 cents.
i have a feeling this entry is going to be long because i have a lot of photos to post. on the other hand, my butt is kind of hurting from sitting for so long. i feel like i should do a dance. have a party. perhaps a dance party. right here; right now.
today i went for a long, long walk in the hot, hot heat (band name not intentional). as i was walking by the housing projects, i found what i thought was probably a good found because it looked a lot like a discarded letter, and those always make the best founds. so i put it in my purse and forgot about it until i got home. then i read it and it kind of broke my heart:
Hey tina
How are you doing? I miss you so much. I hope And pray that I'm home may 3, please tina pray for me I pray for you every night I go to sleep. tina I know I was always hard on you whan you was little And than I stop being hard on you It was because I was not doing the right thing so I felt how can I tell you to do the right thing If I'm not doing the right thing. But now whan I get home I'm going to do the right thing no more selling drugs I'm going to chrurch and going to work hard for my money trust me tina I gave my life to god It's the only way You remember whan me And you use to go to chrurch I mean everything was not perfect we still had problems But we had more peace and more happines In our life. Drugs Is what destroyed the family. look our little sister Is following the same life she thinks the Fastlife Is going to make things Better It just makes things worse trust me. tina go Back to school your young smart And you can start fresh And trust me, life gets better whan you work hard for the things you need. tina please look out for my little girl Kassandra don't leave her In Kathys house please I worry about my little girl like crazy. I love you tina do the right thing you can do It It's time for you to change your life around tina I love you so much
me you
I'll talk to you later write Back
love you
miss you
be good
God Bless you
i don't know why, but i finished reading that and kind of wanted to go cry. and i wanted to share it with everyone. something about discovering little tiny pieces of peoples' lives. i have, for example, grown freakishly attached to buying other peoples' photographs at thrift stores when i can find them. there's a place across the street where there's a whole suitcase of assorted old photographs and i go through and buy the ones that jump out at me for a dime a piece. now i just have this pile of other peoples' photographs. i wish i could give them back to their original owners... that's kind of what i fantasize about the most.
i remember when ian used to work at target photo and he would keep the photos nobody claimed. once he posted them on the internet. i loved the one of the girl with the butterfly face paint all done up on her cheeks. i guess i understand now why he was so moved by those.
i called katie to read her this found because i thought katie would get it, and of course she totally did. i feel very attached to katie lately. it would suck if she were possessed by a mean dead person.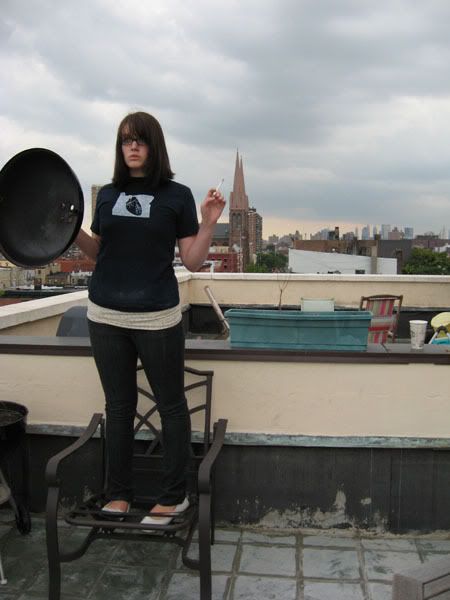 this picture is of me standing on a chair on the patio of my apartment with a cigarette. my sister and i were trying to capture the pretty skyline behind me but it was harder to do than you might think. anyway. there's a barbecue lid, too.
do you ever have a far-away crush on someone who is single and you think about them a lot and think about how that person probably either 1) is a playa and doesn't really like to be in steady relationships, and only hooks up with hot and trashy blondes or 2) hasn't found anyone beautiful enough for them yet, and then you're facebook stalking them and you see that they've embarked on a serious relationship with someone who is
not that cute?
and sometimes you can't imagine that their personality could possibly make up for their ugly teeth or fat butt or terrible dye job? that sucks.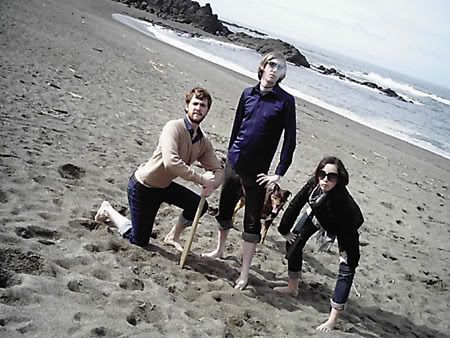 i bought a new camera recently, and when i was looking through the pictures from my old one, i realized i'd never uploaded a lot of them onto my computer because my computer had been broken. this was taken on the beach when kim and tim came to visit. THAT TIME WAS GREAT. see foofy!? we took foofy!!!!! wow. i really miss foofy. and kim.
but actually, i'm going to visit kim pretty soon. on july 27. i'm going to go and see her in chicago. have i mentioned that? i'm thrilled about it. i really, really miss chicago. the other day i was washing dishes and suddenly was struck by how much i owe to hannah because if it weren't for hannah, i'd never have gone to chicago, i'd never have applied for this internship, i'd never know what i wanted to do in my life, i'd never be in new york right now doing what i want to do. i guess i should also thank mac, but in a different way, because if it weren't for mac breaking up with me, i'd never have wanted to get far, far away from whitman last year, and i'd never have sought out the chicago program. isn't that funny how little things like that kind of change your life completely? i mean... breaking up with mac wasn't really a
little
thing. but i remember the day i went to hannah's room and she told me about the chicago program.
what if i hadn't gone to her room that day!?!??!?!
weird. as. fuck.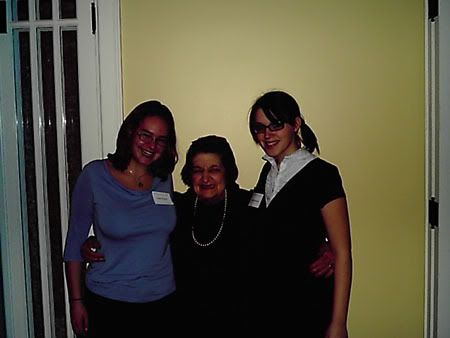 i also found on said old camera, this picture of me and helen thomas. who is a famous journalist. some people don't know that. she was wearing ugg boots. unfortunately, whitman president george bridges took this photograph and neglected to show the ugg boots. good thing he's a college president and not a professional photographer. on second thought, maybe his calling wasn't really to academia after all. maybe he should have opted for bow-tie design instead. i hear there's a dearth of those lately.
yesterday i trekked two hours out of my way (by subway and bus) to go to this really great little farmer's market in east new york. it's in a kind of impoverished neighborhood, you see, and so for ten years they've set up this brilliant local foods program. they transformed a vacant lot into the most beautiful farm i've ever seen, and they grow all these beautiful vegetables there. they get twenty inner-city kids from the neighborhood to do this internship program and they all cultivate the land and work so, so hard to make it function... and then on saturday they sell all the fruits and vegetables to people in the neighborhood at a farmer's market. i went there and talked to everyone who was working there, and they were just so inspiring. sixteen-year-old kids who stereotypically you'd expect to see hustling drugs were more articulate and intelligent than anyone i knew when i was that age. and the garden itself was
so cool
. they had honey bees and a big thing that collected all the rain water from adjacent roofs and a little pond with koi in it and a clay oven that you could cook bread in using just the heat from the sun. the vegetables looked so
real
and unpolished. a beautiful women with a jamaican accent explained to me how she made her authentic mint iced tea. she crushed springs of different mints between her fingers and told me to smell them. one group had set up a booth where they used all the vegetables and fruits available from the garden and made a huge mixed salad from them and served little cups for free to anyone who was interested. there was fresh juice and there were turtles and story hour. this is the kind of thing that completely restores my faith in humanity. i was near tears when i left. in a good way: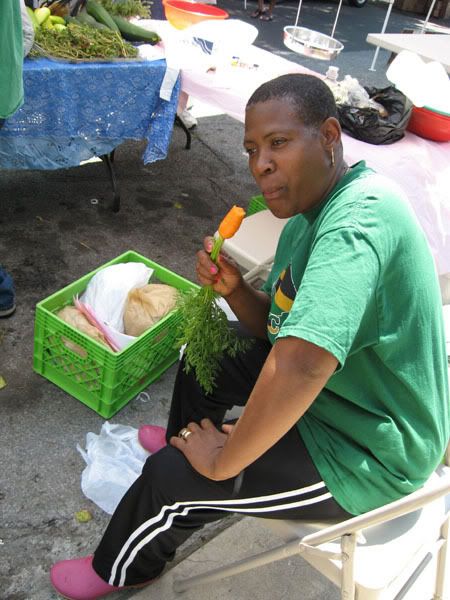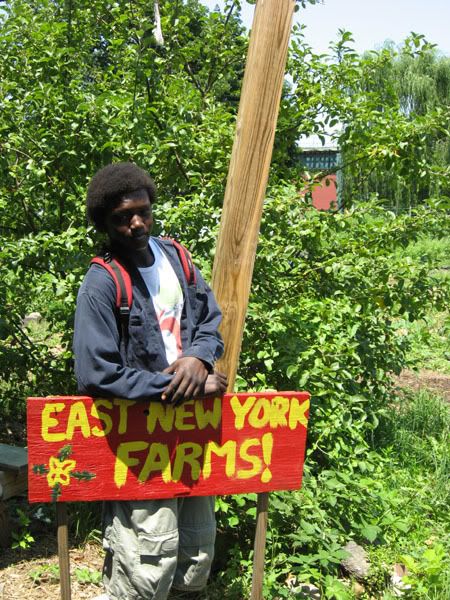 on friday night vince levy had his monster party. that was good. i got drunk on sangria -- some of the sangria was peach-colored and some of it was dark purple. they were afraid to dance on the roof because there was an alarm inside (they'd been told) and if they danced the police would come. something about this reminded me a little of footloose. of course i was struck by the sheer attractiveness and intelligence of the people at the party, the way you always get around another (cooler) person's set of friends. sometimes i wonder if cool people's friendship circles are formed purely around aesthetics. it doesn't sound that far-fetched.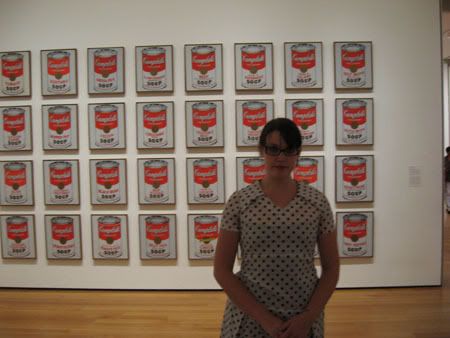 grant took this picture of me at the moma. i didn't like how i looked that day. it was a greasy day.
my sister says that you're not supposed to wash your hair but once a week. she also brushes her hair one hundred times every night to "bring the natural oils in the scalp down to the roots" of her hair. this kind of bums me out. i really like washing my hair. i like the way hair feels when it's really, really clean. i hate it when the "natural oils" from my sweaty forehead get on my bangs and make them look really greasy.
sometimes i really miss my sister. she's a very fast text-messager. she sends the most adorable text messages. i miss going on family vacations with her and suffering together in silence in the tiny hotel rooms while both my parents loudly snored. i miss that alexis used to try to get me drunk all the time. i miss talking about boys. in general.
three years ago or so we went to new york as a family. alexis and i rode on the carousel in central park, just like grant and i did a few weeks ago: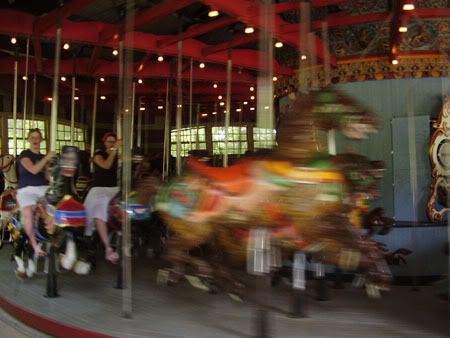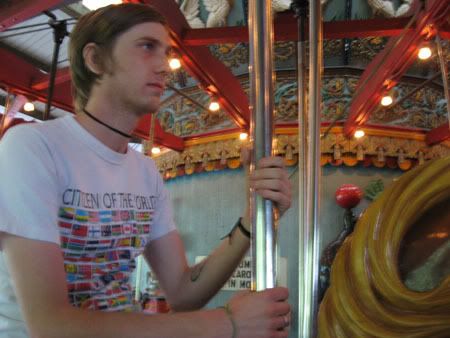 i've been trying lately to sit in the present and not look towards the future, but it's so difficult. it's hard when we are trying so desperately to plan out our post-college lives. i've never felt like i've let my parents down as much as i have recently as it becomes clearer and clearer that i'm not going to graduate school. and grant is actually applying for a new york fellows program so he can teach inner-city kids math and earn his masters in education at the same time. he mentioned on the phone the other day that if he decided to do the program... if he got in and did it... that would be it. there would be no more dreams and his life would be sealed.
that's a little dramatic, i guess, but it's so easy to feel that way, you know?
right now grant is working at sticky fingers bakery: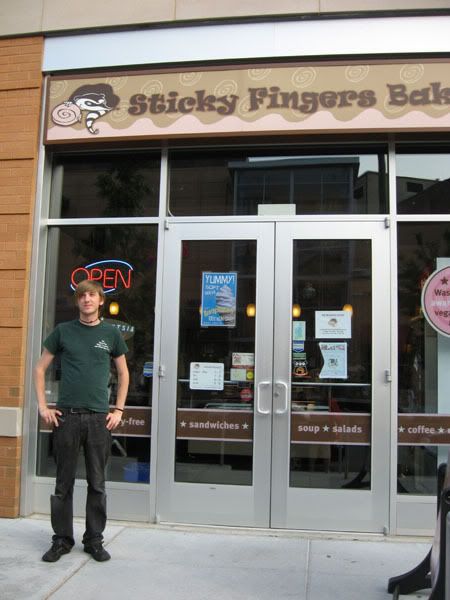 which is totally weird because you get to see all these people who have kind of taken life by the balls and said, "fuck it. i'm opening a vegan bakery in d.c. and it's going to work out fine." sometimes i wish i could just scrap everything and start over. go out and get a masters in business or go to cooking school or something and start a restaurant in portland. or a movie theatre. or a children's book store.
the other day at the nation it was victor navasky's birthday and we bought him this HUGE CAKE. akiva and i had to go and get the cake from the cake-makers, and the cake-makers was part gourmet-cake place and part children's book store. i totally wanted to have a child. you know? i was fantasizing about raising my child and giving him lots and lots of books, just like my mom did. akiva found an illustrated version of "when i heard the learn'd astronomer" by walt whitman, and i thought that was tremendous. i get this impression when i'm around akiva that he thinks i'm coming on too strong, and he's trying to be polite about it. i have that problem -- that coming on too strong problem. also, akiva is always just a little cleverer than i am. that's frustrating but kind of refreshing, too, you know? no? you don't? i tried to explain this to ben and he kind of understood but not really.
oooh... by the way... has anyone been watching world series of pop culture? and if so: isn't it amazing how pop culture whizes are all really fat?